The Little Flower Shop was pleased to be selected to arrange the flowers for the Unleash The Power Within 2019 event at ExCel London.
The prestigious event featured world renowned motivational speaker Tony Robbins as well as other guest speakers. The event required a sophisticated theme to match the occasion where generations are inspired to believe in themselves to reach their true potential.
The Little Flower Shop was tasked with designing flowers that were chic, elegant and sophisticated, with one stand out floral display and two supporting smaller ones.
For the large arrangement, we opted for calla lilies, which were perfect given their tall, classy appearance and effortless elegance.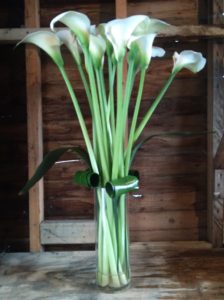 Carefully arranged in a tall, clear vase,  calla lilies are delicate and require great attention to detail when preparing for a floral display. The fragile stems must be tenderly trimmed at an angle to allow them to capture water effectively. Methodically placing the calla lilies in the tall glass vase ensured they gave maximum visual impact. Lightly garnishing with aspidistra leaf foliage added a touch style to finish the display.
The two smaller floral arrangements were delicately arranged with a mixture of luxury white hydrangeas, premium white roses and white tulips. The fluffy effect of the white hydrangeas created a simple yet outstanding effect, with the white roses and tulips adding a quieter elegance to the display.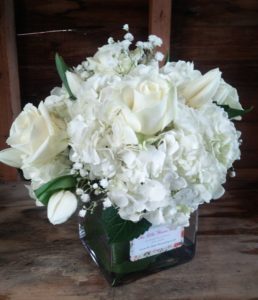 We had a great time arranging flowers for the Unleash The Power Within 2019 event at the ExCel London.
If you have an upcoming social event or corporate event and need beautiful floral arrangements to decorate your space, contact us here and we'll work with you to create the perfect floral display.